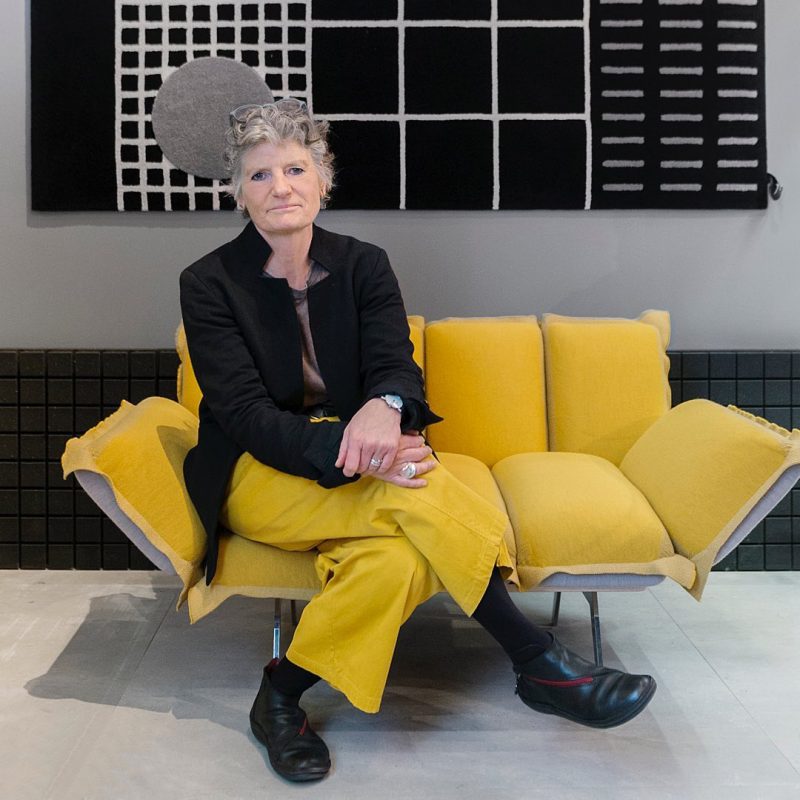 I'm a textile designer and trend forecaster. Since I founded Studio MLR in1986 in Milan, I have designed textiles and forecasted trends for interior and fashion textile companies all over the world. In 1992 I moved the studio to Copenhagen.
Based on my in-depth textile knowledge, 30 years of experience and widely expanded network, I understand and work with different textile techniques, connect ideas, needs and professions into innovative products.
Being on eye level with all involved and ensuring that all are on the same track, I establish strong partnerships in the projects.
My core value is proper, and its shapes every single part of the process of my company from the initial dialogue to the end product.
At Studio MLR we aim to make long-lasting design and quality solutions, to develop products that address sustainability. We intent to create solutions that are good for the world and people, so everything is properly done; it shows in processes and products. We aim to design with a democratic mind-set.
In 2016 I founded Danish Color Board; I'm vice president of Intercolor.
I'm the only designer member of the Care and Fair organisation that is working against child labour in the Indian carpet industry. I have worked on projects for UNIDO and EU. I'm a court-appointed expert in design issues.
I have lectured and led classes on several design schools among those IED / Milano, Seconda Università / Napoli, KADK / Copenhagen and the Design-school / Kolding.
"This process has been a novelty for DHL, but in the safe hands of Marie-Louise, and with her pronounced feel for quality in every detail, a both aesthetic, decorative and environmentally functional solution has been completed….Thanks."
Christian Høy-Petersen, Business Administration Manager, DHL Express, DK.
"We have experienced only exquisite creativity combined with good dialogue and not least quality in both planning and execution."
Henrik Lehmann Andersen, CEO, Nordea-fonden, DK
"It is always my pleasure to see you who are not just creative trend setter but have enough production/technical knowledge to support it. Indeed, as you may know, we are not strong in F/W season. So even with your help, it was not easy to have fruitful results. But your lecture for S/S is very much helpful, as any idea comes to my mind just after your each lesson/topic. I hope that you can see many of your ideas in our 2020 S/S collections."
Y.K.Youn, Shinjintex Co., Ltd., KOREA
"I've been an R&D role in H&M for 5years and now fabric specialist for Bestseller for 1 year. I've seen a lot of trends from different brands and many different kinds of fabrics every season. Sometimes I feel its quite blur ..What you've showed us is quite clear and inspiring! I feel can apply on our developing easily . I believe you must have done a lot research and have strong fabric knowledge background. I appreciate to have the chance to join the meeting."
JUDY JI, FABRIC SPECIALIST, BESTSELLER UNITED CHINA LTD.
Our clients from past and present: 
Bassetti, Nordisk Tekstil, Ikea, Organic Company, Flou, Woud, DePadova, Studio Francese, Roberto Fantoccoli, Enka Viscosa, Clerici, Olmetto, Soluzioni Tessili, Naj Oleari, NoaNoa, Ermenegildo Zegna, Agnona, FPR, Faliero Sarti, Stardust, Lenzing, Comitato Moda Italiana, 100 % Knit, Zoom on Trends, Lineapiù, Casalegno Tendaggi, Fede Cheti, ASA Alois, Leutenda, Giber, Kinnasand, Dedar, Fanair, Assia, DePloeg, Mario Cavelli, Fiorete, Borås Cotton, Almedahl, Sancal / designer Luca Nichetto, Imatex, Tappeti Contemporanei, Linie Design, Tisca Italia, Realdania / Interior architect Birgitte Mikkelsen, Novo Nordisk, Warp2knot, KMD / architect Dorte Andersen