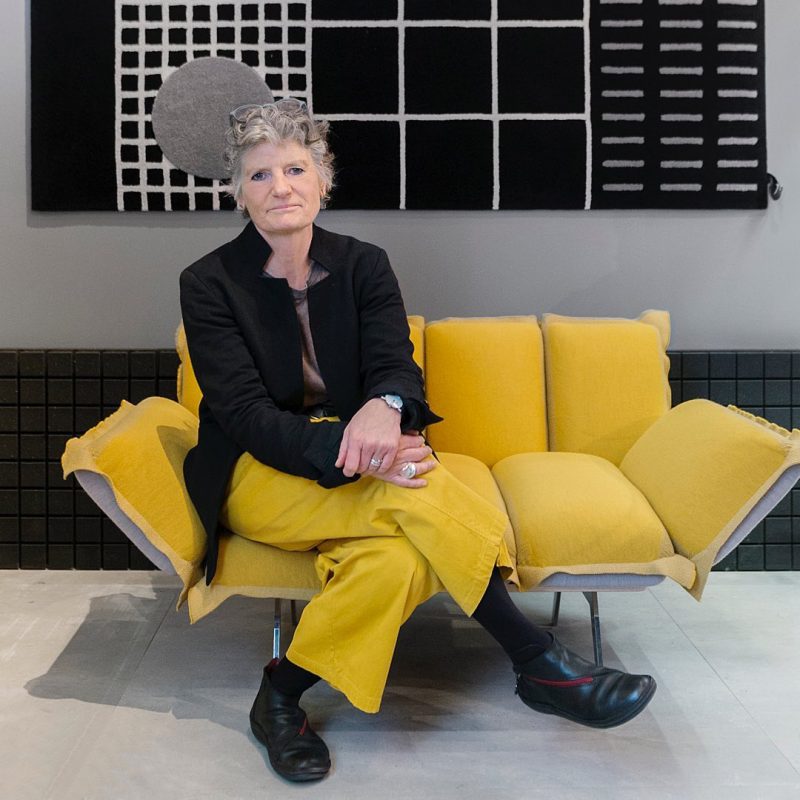 I'm a textile designer and trend researcher. Since I founded Studio MLR in1986 in Milan, I have designed textiles and helped interior and fashion textile companies all over the world in different ways. In 1992 I moved the studio to Copenhagen.
Based on my in-depth textile knowledge, 30 years of experience and widely expanded network, I understand and work with different textile techniques, connect ideas, needs and professions into innovative products.
At Studio MLR we aim to make long-lasting design and quality products, to develop sustainable solutions. We intent to create solutions that are good for the planet and people, so everything is properly done; it shows in processes and products. We aim to design with a democratic mind-set.
Being on eye level with all involved and ensuring that all are on the same track, I establish strong partnerships in the projects.
My core value is proper, and its shapes every single part of the process of my company from the initial dialogue to the end product.
In 2021 I received the Danish Design Council's Honorary Award and was finalist to Danish Design Award.
In 2016 I founded Danish Color Board; I'm president of Intercolor.
I'm the only designer member of the Care and Fair organisation that is working against child labour in the Indian carpet industry. I have worked on projects for UNIDO and EU. I'm a court-appointed expert in design issues.
I have lectured and led classes and courses on several design schools among those IED / Milano, Seconda Università / Napoli, KADK / Copenhagen and the Design-school / Kolding.
I believe that curiosity and design method is the foundation stone of all innovation.
What: I'm strongly based in the textile expertise. I'm drawn to bridging elements. I implement the characteristics of one thing into a new use.
There is always an uncertainty to innovation. Therefore I base a project partly on well-known knowledge. I create strong partnerships with suitable suppliers and collaborators.
It's crucial for me to be on eyelevel with all involved and to ensure that all are on the same track.
Once a good base is established I can move into unknown areas with confidence. It's my pride that the process is smooth.
For who: We work with mills, coverters, furniture and garments brands, fiber producers – mostly on large scale. Our main focus is sustainability, so we love to deal with any company working from fiber and onwards.
How: Our method begins by getting to know the DNA of the customer – listen to their wishes, needs, practical ambitions, visions –
Once the frame for the collaboration is defined, we start sketching to delimit the direction in function, aesthetics, practical aspects, etc.
When these aspects are clear, the actual development of the product begins in close collaboration with the customer and all others involved.
We take the task to the point where the customer wants to take over.
When working with trends:
We are rooted in practical knowledge we have gathered from working with textile industries around the world for over than 30 years.
This forms a solid base for researching trends. We work with a dedicated group of designers from different places in the world.
For more than 15 years we have delivered trends for fashion and interior for colours, yarns, qualities and decoration.
We aim to bridge trends and customer to give useful information ….we don't use fluffy trend words.
Learn more about our trend work on MMtrends.com.
Marie-Louise Rosholm came to us because she could tell that we were lacking textiles in our collection and that we might need some help - and she was right. Marie-Louise immediately understood our brand DNA and analyzed our needs. With her experience and patience, Marie-Louise is good at making you understand technical terms and she speaks a language everybody can understand. Her knowledge and expertise regarding trends give us comfort knowing we are always on track using the correct materials and colours. Marie-Louise has a vast network of suppliers, sewing rooms and weaving mills, which was important for us as we had no idea where to begin. Moreso, Marie-Louise is a great inspiration. Her sustainable mindset and ideas are admirable - and she is not afraid to work with new technologies and rethink ways to go ahead. Marie-louise is professional and right from the start, she understood our needs regarding price, quality and quantities - but she was also capable of challenging our own ideas and preconceptions. Most importantly, Marie-Louise is always great fun to be with and her presence always brings a smile on my face.
Mia Koed, creative director , WOUD, Denmark
"We would like to share with you, how your knowledge regarding ideas concepts and colours for the next spring summer collection 21 support us in our development. It is very important share with you, our development work our fabrics and listen your comments and how interesting is on creative work this share and exchange ideas. One of the things that Riopele Team appreciate a lot on last meeting was exactly this, that fashion can live together with sustainability and save the environment. This a subject that was clearly demonstrate on your work, like the power point presentation and boards . We are very happy to work with you. Thank you very much."
Albertina Reis, Riopele, Portugal
"Marie-Louise Rosholm, in Lenzing presentation, set out in a clear and inspiring manner the upcoming major trends, how to use Lenzing fibers towards a sustainable way of thinking. It's all about combining everyone's skills - designers, technicians and engineers. Making quality clothes and saving the world."
Leo Ferreira, Pocargil, Portugal
"Thanks for the perfect presentation yesterday.It was a pleasure to have a chance to listen to you about the Spring/Summer 2021 topics and trends.We once more understand that "Sustainability, longevity, usefullness" of the fabrics will be the first priority in every process from the design stage through consumer.Also your comments and suggestions for fabrics of the new collection are well appreciated."
Dilek Akay, CAN TEKSTIL, Turkey
"This process has been a novelty for DHL, but in the safe hands of Marie-Louise, and with her pronounced feel for quality in every detail, a both aesthetic, decorative and environmentally functional solution has been completed….Thanks."
Christian Høy-Petersen, Business Administration Manager, DHL Express, DK.
"We have experienced only exquisite creativity combined with good dialogue and not least quality in both planning and execution."
Henrik Lehmann Andersen, CEO, Nordea-fonden, DK
"It is always my pleasure to see you who are not just creative trend setter but have enough production/technical knowledge to support it. Indeed, as you may know, we are not strong in F/W season. So even with your help, it was not easy to have fruitful results. But your lecture for S/S is very much helpful, as any idea comes to my mind just after your each lesson/topic. I hope that you can see many of your ideas in our 2020 S/S collections."
Y.K.Youn, Shinjintex Co., Ltd., KOREA
"I've been an R&D role in H&M for 5years and now fabric specialist for Bestseller for 1 year. I've seen a lot of trends from different brands and many different kinds of fabrics every season. Sometimes I feel its quite blur ..What you've showed us is quite clear and inspiring! I feel can apply on our developing easily . I believe you must have done a lot research and have strong fabric knowledge background. I appreciate to have the chance to join the meeting."
JUDY JI, FABRIC SPECIALIST, BESTSELLER UNITED CHINA LTD.
Our clients from past and present: 
Bassetti, Nordisk Tekstil, Ikea, Organic Company, Flou, Woud, DePadova, Studio Francese, Roberto Fantoccoli, Enka Viscosa, Clerici, Olmetto, Soluzioni Tessili, Naj Oleari, NoaNoa, Ermenegildo Zegna, Agnona, FPR, Faliero Sarti, Stardust, Lenzing, Comitato Moda Italiana, 100 % Knit, Zoom on Trends, Lineapiù, Casalegno Tendaggi, Fede Cheti, ASA Alois, Leutenda, Giber, Kinnasand, Dedar, Fanair, Assia, DePloeg, Mario Cavelli, Fiorete, Borås Cotton, Almedahl, Sancal / designer Luca Nichetto, Imatex, Tappeti Contemporanei, Linie Design, Tisca Italia, Realdania / Interior architect Birgitte Mikkelsen, Novo Nordisk, Warp2knot, KMD / architect Dorte Andersen